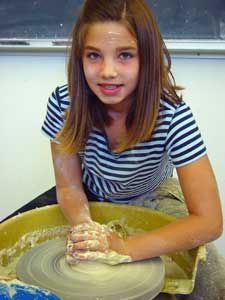 Guidelines, forms, maps and parking passes are mailed to students and their families prior to class as part of the student packet. Once enrolled in the EXCEL program, students and parents are asked to go over the packet contents together and return the appropriate forms.
Forms
Applicable forms must be completed and returned to the class instructor on the first day of classes.
Drop Off and Pick Up
Due to safety concerns ALL EXCEL students must be signed in and out at the EXCEL tent daily by either a parent or designated adult (please fill out Student Authorization form). If staying for Lunch Bunch, students are required to check in at the tent with the lunch supervisor.
EXCEL Tent Location
The EXCEL tent is located in the northwest corner of the SSU campus. Park in Lot A in spaces marked EXCEL. Please walk with your student to sign in at the tent, which is located across from Rachel Carson Hall, Rooms 68 and 69.
Parking
Please park in spaces marked EXCEL in Parking Lot A. Your student confirmation packet will include a parking pass that is valid for the 15-minute drop-off and pick-up periods. It can also be used for Open Houses on Fridays.
Lunch Bunch
As a service for EXCEL students, there will be lunch supervision provided at no charge during the noon hour for those enrolled in both morning and afternoon classes. The Lunch Bunch meets on the lawn adjacent to the pick-up area at Parking Lot A. Every day at lunch time, students are required to check in with the lunch supervisor first. Students must stay within the Lunch Bunch area.
Please have students bring a sack lunch and a snack from home. Students will not be permitted to leave the supervised area and buy food elsewhere on campus. Parents may take students away for lunch by signing out their child with the Lunch Bunch supervisor. Please feel free to send a game for students to share or a book to read.
Absences
Parents must call the office before class begins if a student is going to be absent. The phone number is (707) 664-2645 (voicemail available).
Field Trips
Some classes take trips off campus to enhance learning. Parents are needed to drive to these locations. Parent volunteer drivers need to register with the Extended Education office in Stevenson 1012 prior to class start up, and need to show driver's license and proof of insurance.
T-Shirts
Each EXCEL student will receive one t-shirt per year.
Open House
Most of our classes hold an open house the last half hour of the last class; drama class open houses are usually longer. Please check with each teacher for details; times vary.